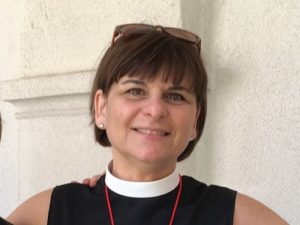 The Rev. Ellen Kohn-Perry, Priest in Charge
The Rev. Ellen Kohn-Perry began her ministry at Christ Church as Priest in Charge in January of 2015. She was ordained to the priesthood in December of 2013 in the Episcopal Diocese of Newark and received her Master of Divinity degree from Drew Theological School. In addition to her work at Christ Church, Ellen serves as President of the Board of Trustees of North Porch Women and Infants' Centers, a non-profit that provides emergency baby supplies for children in need, and on the Board of Directors of Partners in Compassion which runs the Mount Olive Food Pantry housed at Christ Church.
She served at several churches in the diocese during her ordination process and after ordination including St. Peter's Church in Morristown, her home parish, St. John's Episcopal Church in Boonton, and Christ Church Short Hills. Prior to her call to ministry, she worked as a professional ice skating instructor for 7 years and prior to that spent 12 years in the computer and software industry. She resides in Morristown with her family.
The Rev. Ellen Kohn-Perry, Christ Church Budd Lake
---